Stories from the Civil War: The Death of James Marshall Hunter
The Death of James Marshall Hunter
(Born 8-12-1826, Died 2-3-1863)
By Robert T. Hunter, Jr.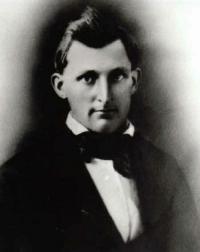 Attending family reunions may be boring to some, but I have always found them to be a source of information about our family. During my childhood we always attended the family reunion in Columbia, Tennessee.  It began as a celebration of my Great Grandfather John Marshall Hunter's birthday.  The reunions have grown into a yearly event thanks to the efforts of my cousin, Bettye Brown.
John Marshall Hunter, also known as Squire, had 9 sons and 1 daughter. In order of birth they are:
EDGAR DAVIS HUNTER
HARLAN HAYS HUNTER
ROBERT LEE HUNTER
JOHN NORRIS HUNTER
WILLIS ARMSTRONG HUNTER
ANDREW HAYS HUNTER
ALLIE CRAIG HUNTER
JAMES WEBB HUNTER
MARGARET ELIZABETH HUNTER
GRADY MARSHALL HUNTER
I learned at these reunions that the tradition of "Oral History" is alive and well in our family.  The stories told always piqued my interest and created a desire to know more.
One story recounted how my Gr. Gr. Grandfather, James Marshall Hunter (Jim), was killed in the Civil War and his horse returned to his wife Elizabeth Norris Hunter and family.  Having a horse returned was a very rare and unusual occurrence during the war.
The storytellers were my Grandfather Harlan, Uncle Bob, Uncle Allie, and others.  At this time we had no proof of James M. Hunter's military record, only the oral history.  As Southerners, we never considered that he might have been a "terrible Yankee."  One relative picked on everyone, especially Uncle Allie, saying that the reason we had no proof of his military service was that he was actually a Yankee.  Well, that would raise uncle Allie's temper and things would have to cool down.
I am proud to say, with the help of my cousin, Bettye Brown, we have found the proof we were looking for.
James Marshall Hunter was a Presbyterian Preacher and served in Co. F, 4th Tennessee Cavalry, Regt .C.S.A. (Starnes-Mclemore Regt).  We were lucky enough to stumble on 3 books that reference James M. Hunter, and a newspaper article.
The Williamson County Cavalry: A History of Co. F, 4th Tennessee Cavalry, Regt C.S.A. (1994) by D. M. Cotten, provides a brief biography of James M. Hunter (p. 65), and an account of his death in a cavalry charge Feb. 3, 1863 at Dover, Tennessee (p. 86).
Williamson County Confederates, (1996) by D. M. Cotten, provides his enlistment date as Oct 9, 1862 and the death of James M. Hunter on Feb. 3, 1863 (p. 218).
Confederate Soldiers of Williamson County Tennessee- Final Resting Places (2004) by Dennis J. Lampley lists his birth date, date of death, Company, and place of burial (p. 71).
The Franklin Tennessee Review Appeal, dated Oct 9, 1902 published an article on the reunion of Co. F, 4th Tennessee Cavalry, C.S.A., including a list of those killed in action and contained the name of James Marshall Hunter.
The story my Grandfather Harlan Hays Hunter told was how a Sergeant Goad, who refused to wear blue, would come by their house in Columbia, TN and ask my Gr. Grandfather John M. Hunter for money for his libations.  Before grandfather gave Sgt. Goad any money, he would call the boys to the porch and Sgt. Goad would be asked to tell the story of how their grandfather James M. Hunter was killed.  Mr. Goad told how, on Feb 3, 1863 General Nathan Bedford Forrest ordered his men to mount their horses and charge the Yankee lines. They gave a glorious charge but the Yankee soldiers made it to their breastworks first.  The lead men in the Confederate charge were Gen. Forrest, Colonel Starnes, and James M. Hunter, plus a couple of others.  They got within 10 feet of the cannons and the Yankees unleashed an unholy volley slaughtering those in the lead. Gen. Forrest's horse was shot out from under him, Col. Starnes was shot in the face, and James M. Hunter and James Scruggs were killed instantly.  After the battle, Gen. Forrest moved closer to Franklin, Tenn.  James M. Hunter's two brothers-in law, Andrew Norris and John M. Norris, both in the same Company, were given permission to return James M. Hunter's horse to their sister Elizabeth.
Upon notifying Elizabeth of "Jim's" death, she, 6 months pregnant with my Great Grandfather John Marshall Hunter and a servant, took a wagon to Dover, Tennessee, near Fort Donelson to recover the body. The weather was not good.   Sleet, ice, and snow covered Tennessee in Feb 1863. Upon arriving at Dover they located a gravedigger to help in their search for her husband's body.  During the War, soldiers were rarely buried in a single grave.  Most were buried in trenches lined up side to side.  It cost Elizabeth $25, $1 a head, until they found him.  She then returned with him and buried him near the Harpeth River, east of Franklin.
This is a sad story but more importantly shows the heroism of my Great Great Grandmother Elizabeth and others who lived during those troubled times. Elizabeth deserves a lot of credit for her strength.
After Sgt. Goad would tell the story, my Gr. Grandfather John would give him some "libation" money.
This story has been repeated many times at the family reunions, and we were very fortunate and excited when we found the books that substantiate James M. Hunter's military service. Until then these were unsubstantiated stories.  One needs to consider that many of the stories handed down through families just may be true.
POEM BY JAMES MARSHALL HUNTER'S SISTER LIRRIE:
Lirrie wrote this poem after the death of her brother, James Marshall Hunter in 1863. This poem was found in the dairy of James M. Hunter.  Bettye Brown was able to copy this from the dairy as well as some everyday entries, but the owner of the dairy would not part with it, and unfortunately it is now missing.
TO THE MEMORY OF MY BROTHER
By Lirrie Hunter
June 25, 1863
He sleeps in peace, disturb not his rest,
Let the wild bird free, his requiem sing,
No more can foes aim their darts at his breast
Where proud bright hopes once fondly did cling.
He sleeps the sleep, of the free and brave
His high soul scorned to bow to foes,
He fell his bleeding country to save,
And rests in the arms of honored repose.
Let the clangour of arms around him ring
It cannot him from his slumber awake
For his freeborn soul is on the wing
Where the roaring cannon hath no powers to shake.
[Editor's Note: James Marshall Hunter's father was Isaac F. Hunter and his Grandfather was Jacob Hunter (I) the Revolutionary War soldier and namesake of the Jacob Hunter Trust]